Knock em out of the park
The pitter patter of litte paws — The pitter patter of little paws — The pitter patter of little paws
BORN 3th of  August – The pitter-patter of little feet – Knock em out of the park / K – by WindDrover  – The pitter-patter of little feet – BORN 3rd of August

Just a few minutes after midnight Jinx' first puppy was born. A huge, strong girl with a half mask on her left side.
Her 2 brothers followed not to long after and Jinx is a dedicated mum, looking after her pups, enjoying her bonding time.
———
Nur ein paar Minuten nach Mitternacht wurde der erste Welpe von Jinx geboren. Ein grosses, starkes Mädchen mit einer Halsmaske auf der linken Seite.
Ihre zwei Brüder folgten nicht lange danach. Jinx ist eine hingebungsvolle Mutter und geniesst die 'bonding time' mit ihren Kleinen.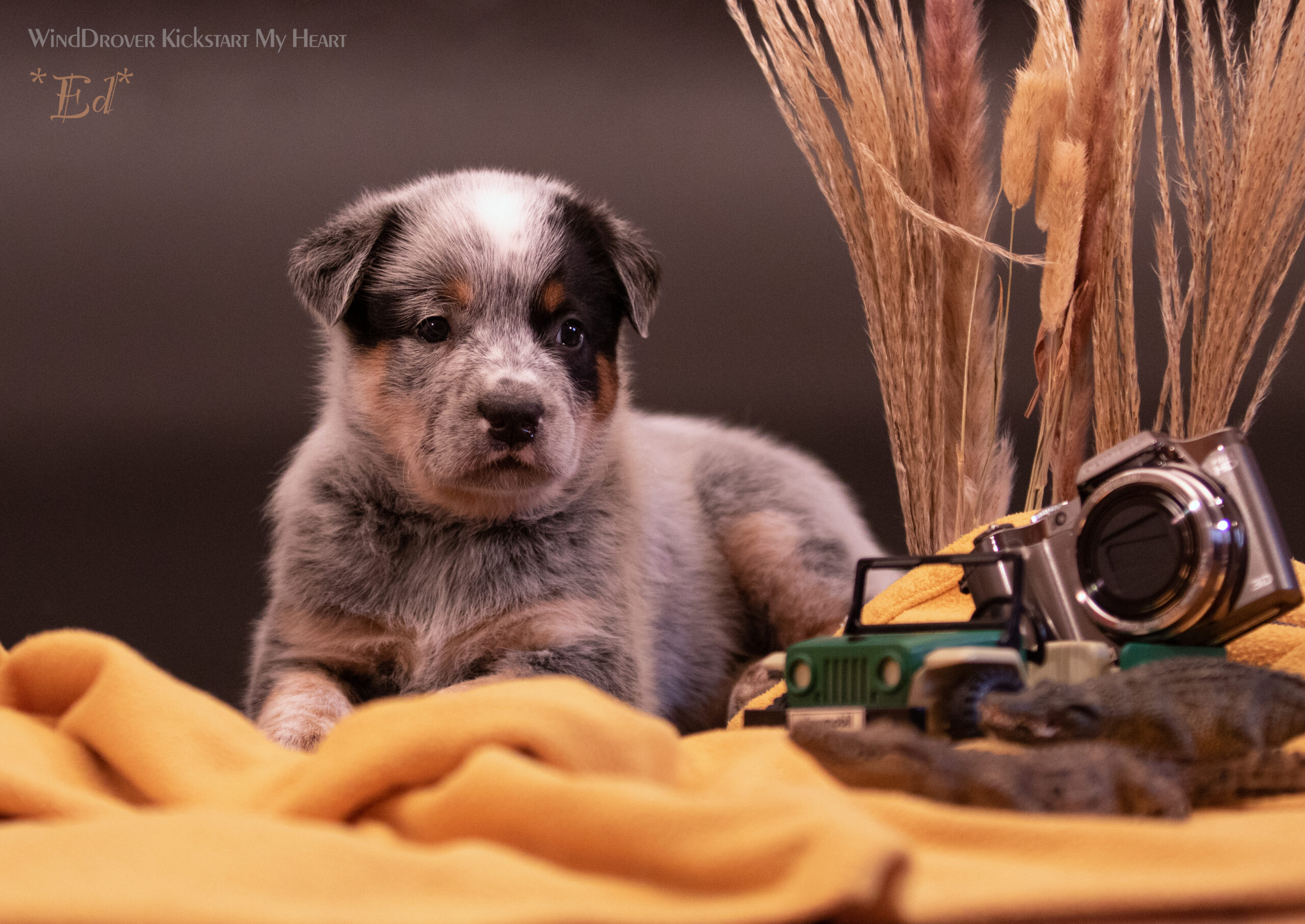 We proudly present:
WindDrover Kindred Spirits, pet name with us *Shenzi*, female, big head patch left side
WindDrover Kick It Up A Notch, pet name with us *Banzai*, male, tail patch, small ear patch left side, small head patch right side
WindDrover Kickstart My Heart, pet name with us *Ed*, male, big head patch left side, small ear/head patch right side
——
Well, originally we wanted a litter with WindDrover Highly Irresistible *Jinx* in 2022 but she wasn't a fan of our plans. She cut her heat short and we didn't get a mating.
This year was an altogether different story. Same stud, same location but the mating dance didn't last even 5 minutes before we had a first mating. This litter will be all blue.
Dartbrook's Button To Push a.k.a. *Glen* is of medium size which was extremely important as Jinx is standing above standard, has good angles, great temperament, good health results and is training obedience and as a explosives sniffer dog.
He is always in a good mood and puts a smile on your face. One if his favourite past times is playing with puppies and serving them as a climbing frame.
Jinx stands well above standard, has good angles, a wonderful temperament, outstanding health results and is a bit of a jack of all trades, dipping her toes in heelwork, nose work and is a dedicated trail riding buddy for Rebecca.
—
Wir hatten 2022 auf einen Wurf mit WindDrover Highly Irresistible *Jinx* gehofft, aber sie war kein Fan unserer Pläne. Ihre Läufigkeit brach ab und es kam zu keiner Bedeckung.
Dieses Jahr sah das Ganze komplett anders aus. Der gleiche Rüde, der gleiche Ort, aber das Vorspiel dauerte nicht einmal 5 Minuten bevor wir die erste Bedeckung hatten. In diesem Wurf wird es nur blaue Welpen geben.
Glen ist von mittlerer Grösse (was für uns extrem wichtig war, da Jinx über dem Standard steht), hat gute Winkel, ein tolles Temperament, gute Gesundheitsauswertungen und trainiert Unterordnung und als Sprengstoff-Spürhund. Er ist ein guter laune Bär und geniesst es unglaublich, wenn er mit Welpen spielen darf und sie auf ihm herumturnen.
Jinx steht deutlich über dem Standard, hat gute Winkel, ein wunderbares Temperament und hervorragende Gesundheitsauswertungen. Sie ist ein Hansdampf in allen Gassen und macht ein bischen heelwork, Nasenarbeit und ist der trail riding buddy von Rebecca.
The parents of our K-litter are:
Dartbrook's Button To Push
DOB: 01.03.2018 // HD-A2, ED-0-, Prcd2-PRA-N/PRA, rcd4-N/N, PLL-N/N, DM-N/N, NCL CL-5-N/N, NCL adult onset-N/NCL.
Correct bite but missing p1 & p2 bottom jaw, eyes clear 05/2022, spine clear 08/2022, DNA profiled. 48cm/18.9 inches
X
WindDrover Highly Irresistible
DOB: 01.10.2019, HD-B1, ED-0, Prcd2-PRA, rcd4, PLL, DM, NCL CL-5 & adult onset, all NN.
full & correct bite, eyes clear 05/2023, spine clear 07/2022, DNA profiled. 51 cm/20 inches
We are quite sure this litter will have outstanding working attitudes // Wir denken, dieser Wurf wird hervorragende Arbeitseigenschaften haben.