Whenever a person makes plans, fate falls laughing from his chair somewhere
–
Immer wenn der Mensch Pläne macht, fällt irgendwo das Schicksal lachend vom Stuhl
(That's the motto of my life right now)
– January 2021 –
Sometimes life just throws you a curve ball (especially this year, right?) and all the best-laid plans are worthless.
Erin came in heat in November and normally I would have booked a ferry to England right away. Now the same happened, Kono is in heat and I really really want to pack her up and drive to meet Alinga soon. Unfortunately Covid-19 wouldn't and won't let any of this happen.
I now decided to take as it comes and it might be, that this year will see 2 litters being born quite close together. Oh boy…
—————
Manchmal durchkreuzt das Leben einfach die besten Pläne…
Erin war im November läufig und eigentlich hätte ich sofort die Fähre nach England gebucht. Jetzt passiert das gleiche noch einmal mit Kono. Sie ist läufig und ich möchte wirklich in ein paar Tagen mit ihr zu Alinga fahren. Leider lies und lässt Covid-19 dies nicht zu.
Wir haben uns jetzt entschlossen, abzuwarten, und das zu machen, was möglich ist wenn die Zeit kommt. Es könnte bedeuten, dass dieses Jahr 2 unserer Würfe recht eng zueinander geboren werden. Himmel hilf.. 😉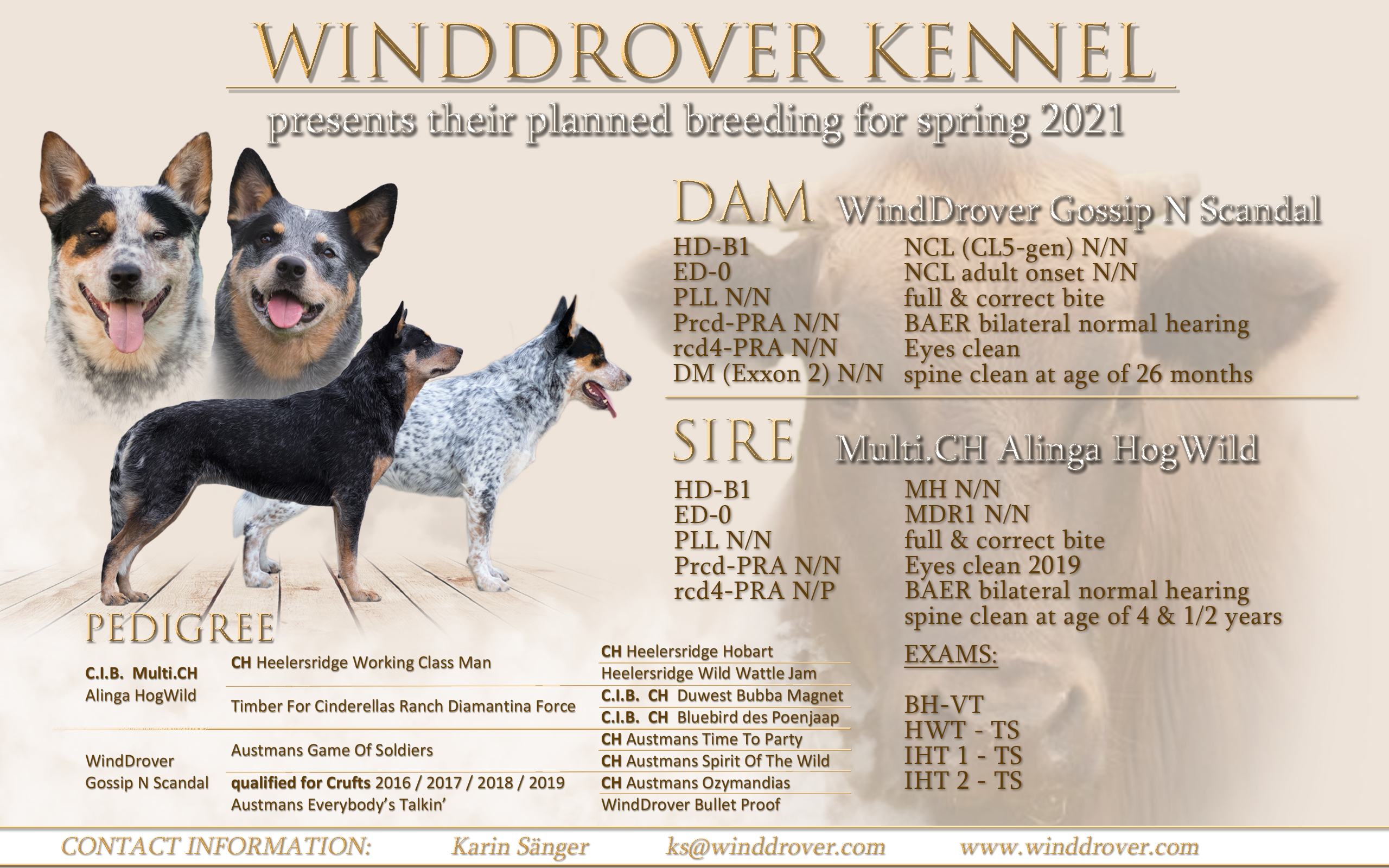 As this will be Kono's first litter one of the requests for a male was, that he is experienced but of course not overused. As I had my eyes on Alinga for years already and been in touch with his owner Lea the decision was rather easy.
Both dogs have balanced builts with enough leg under them, they have good prey drive with a great will to please and the health results are really nice.
Kono passed her eye test in 07/2020 with flying colours, another box checked 🙂
We x-rayed her spine for the first time at 26 months old and it's clear as can be. No anomalies visible, clear of DISH and spondylosis. Of course we'll do her again before a mating.
More boxes checked in 10/2020: Temperament test passed, bonitation passed and awarded with an EX at her first show ever.
BREEDING PERMISSION GIVEN 20.10.2020